2024 Chevy Traverse with New Z71 Model
2024 Chevy Traverse - The Chevrolet Traverse enjoys a lot of popularity. This three-row Suv from Chevy now gets a whole new everything. This rides on the same C1 platform that the Enclave and Acadia do, but it's getting a huge overhaul, and it gets four trim levels that include Ls, Lt, Z71, and Rs. Yes, that's right, I said Z71. More on that later. It gets a more squared-off design, more rugged, and old-school Suv-like.
আরো দেখুন - ভিশন ফ্রিজ ১০ সেফটি দাম কত
2024 Chevy Traverse Exterior
It's. It has a trucky front end; it has short overhangs and a lower belt line, making visibility better for both driver and passenger and making it feel airier when you're driving it inside the cabin. Yes, I knew the lower Belt Line would make a comeback. Thank you, Chevrolet! Inside, you're going to get a bigger 17.7-inch touchscreen up front.
2024 Chevy Traverse Interior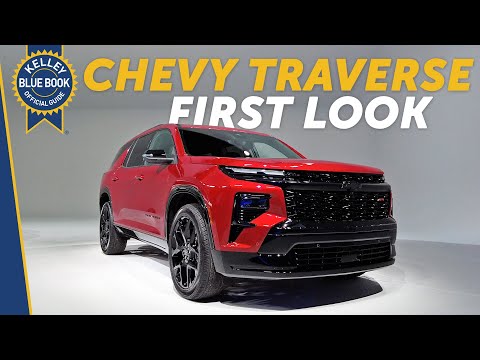 Wow, you guys, this screen is here! It's all standard on every trim level, and it is impressive. You also get a ton of cargo space in the rear with 97.57 cubic feet, which is Best in Class for now. In between, there are options like leather or Evotex-covered seats. Captain's chairs are bench seating. All of those can come heated as well. You can also get a power third-row seat. The instrument panel now has an 11-inch screen, and everything sits lower on the dash. Even the dash is lower for improved visibility. I really, really like what is going on inside this Traverse.
Okay, my first impression of what's happening here is a wow moment. The first thing you'll notice is the screens are impressive. The graphics are super clear. Honestly, the processor seems quick. It does use haptic touch to operate it, which you know is easy to get used to. Um, there are HVAC system use buttons down here, so you're not completely relying on this, although you do have them here, so your memory of what while you're driving will be able to use this without having to deal with this. But you guys, this is standard on all Traverse models, and that's impressive, especially for an entry-level. Otherwise, as far as the design goes, it's very simple. It's very clean.
Chevy told me they're aiming for a more truck-looking environment here. That will mean simple, less complicated, and less cluttered. There's more space for storage, especially underneath here under this console. And this is going to be your shifter. So they've moved the shifter from here to the column, saving some space again.
Overall, I'm impressed, and you will be too.
The Traverse gets a 2.5-liter turbocharged engine, and gets this; it is a four-cylinder.
2024 Chevy Traverse Engine
But don't be scared because 315 horsepower, 317 pound-feet of torque. That is more than the outgoing engine. So when it comes to power, you should be satisfied. We'll see. An all-wheel drive is also an option here, and the Traverse can tow up to 5000 pounds if you're so inclined and properly equipped. It also gets a wider track for improved off-road stability, so about that new Z71 trim. You know what that means.
2024 Chevy Traverse Z71
Off-road stuff, and it gets it. You get recovery hooks; there is skid plate action here. You get all-terrain tires here that are going to give you an extra lift. as well as the off-road suspension. You're also going to get an off-road mode in the terrain selection. Um, you guys, It seems to me that all of these elements will make it more capable off-road Listen, if it's carrying that badge, it's better. Chevrolet? I can't wait to find out!
2024 Chevy Traverse RS
The Rs is the Sporty Spice of the group, with 22-inch wheels, a sportier tuned suspension, and black gloss trim bits on the outside, to name a few extras, but you cannot opt for more power. A midnight and Sport edition will also be available on the Ls and Lt models.
The Traverse will get more standard safety features, including a forward distance indicator, Lane keeping assist, and front pedestrian braking.
2024 Chevy Traverse Features
Additional standard features include:
Blind Zone steering assist.
Rear cross-traffic braking.
Speed limit recognition.
Adaptive cruise control.
That's a lot of advanced features for no extra dough. Super Cruise will also be available, but that'll cost you more.
Competitors
Competitors in this group are aplenty and include the Grand Highlander from Toyota, Ford's Explorer, the Buick Enclave and Nissan Pathfinder, The Telluride and Palisade from Kia and Hyundai, respectively, as well as Jeep's Grand Cherokee, The Atlas from Vw, Subaru's Ascent. and yeah, sure, let's throw in the Mazda Cx-92.
Okay, now I officially need a nap. So, guys, the Chevy Traverse looks like it has a lot of really exciting things going for it. New design, new trim level, a great new interior. Tons of tech and safety features. There's going to be a lot more to talk about here.