LG 24gl600F Gaming Monitor Review 2023
LG 24gl600F Gaming Monitor - This post is for you if you want an LG 23.6-inch gaming monitor. Because I'm going to be sharing my gaming monitor, an LG "23.6" LG 24GL600F," with you in today's post. For your convenience, I'm providing comprehensive information about the LG 23.6-inch monitor.
Also Read - Best Motorcycle Injury Lawyer
LG 24GL600F Gaming Monitor Review
With its high-performance features, the LG 24GL600F Ultragear 23.6-inch Full HD Gaming Monitor raises the bar for gaming. This 23.6-inch monitor has a 1ms response time and is ultra-optimized for games like RTS and FPS that require quick decisions.
This premium monitor's 144Hz refresh rate and 1ms response time enable you to take full advantage of any battlefield and smoothly move while capturing even the smallest movements.
The 24GL600F produces smooth action without tearing or stuttering because of Adaptive-Sync technology and Radeon FreeSync. Black Stabilizer and Dynamic Action Sync are the foundation of this display.
Due to less input lag for dynamic action sync, RTS and FPS gameplay is more responsive. Even in extremely dark conditions, gamers have complete visibility because of the black stabilizer. The dark parts get brighter and synchronized.
Thanks to a 23.6-inch Full HD (1920x1080) display that features AMD FreeSync for low latency and seamless visual accuracy during high-action gameplay, you can fully immerse yourself in your favorite games.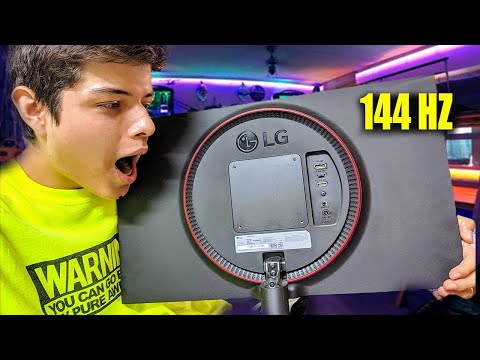 You stay firmly in action with a high native refresh rate of 144Hz and 1-millisecond motion blur reduction while reducing blur and ghosting.
For a smooth gaming experience, AMD FreeSync regulates refresh rates on supported graphic cards such as the AMD Radeon series. This reduces screen tearing, flicker, and stuttering.
Two first-person shooters (FPS) modes and a real-time strategy (RTS) option are included in customized game modes that improve your gaming experience.
Input lag is lessened with dynamic action sync, enabling rapid responses to on-screen actions. Dark scenes are dynamically brightened using Black Stabilizer to make it easier to see opponents at night. The crosshair feature lets you be more precise when engaging in fire.
LG 24gl600F Gaming Monitor SPECIFICATION
Resolution - 1920 x 1080 Full HD
Screen Size - 23.6 Inch
Aspect ratio -16:9
Brightness - 240 cd/m², Brightness : 300 cd/m²
Free Sync Support: Yes
Headphone Out - Yes
Weight - Weight with Stand: 3.7
Audio/Video Features Flicker Free: Yes,
Display Port: Yes
Refresh rate - 144Hz
Contrast Ratio - (Min.): 700:1
Contrast Ratio - (Typ.): 1000:1
Connectivity - HDMI: Yes
Response Time - 1ms
Viewing Angle -170º(R/L), 160º(U/D)
Power Type - External Power(Adapter)
WARRANTY - 3 year